Get Your Smile Back with Dental Implants in Scarborough
Learn the basics before your first consultation
Dental implants are essentially titanium screws that mimic artificial tooth roots, implanted into the jaw to permanently fuse with the bone and later support an artificial replacement tooth ("crown" or "pontic").
The combination of the implant and crown create a strong and sturdy dental restoration that not only looks and feels almost indistinguishably like a natural tooth, but that also has an up to 98% success rate! And - not to mention - a capability of lasting a lifetime with the right daily oral hygiene care.
However, many people who are considering dental implants for themselves may fear that the procedure is painful. With that said, our Scarborough dentist is here to put your mind at ease.
Is dental implant surgery painful?
Nope! Dental implant surgery should never be painful. It's standard for the dentist or surgeon to begin the treatment by administering a topical anesthetic to the area of concern, potentially in conjunction with any other necessary sedative to ensure a relaxing, pain-free and comfortable procedure experience for the patient.
What happens during a typical dental implant procedure?
Dental implant surgery is generally rather simple, with the procedure often only requiring two visits to complete, taking approximately 1-2 hours. During a common procedure, the dental professional will create a small hole in the bone and will make some incisions into the gum tissue to better visualize the bone. Following this, the area is drilled and further prepared to ensure a precisely fitting implant.
In the final stages, the dental implant is placed, and the area is finally closed or stitched. Over the next 3 to 6 months after surgery, the patient will go through a healing phase in which the implant will become one with the jawbone.
Are dental implants right for me?
Most people are likely a candidate for dental implants if their gums and bone are in a healthy state. However, certain health conditions like diabetes may have an influence on the success of of the implant fusing with the bone. That's why our Scarborough dentist would be happy to provide an evaluation to determine whether dental implants would be the right choice for you.
Ready for your free dental implants consultation?
We'd be happy to see you! Contact Dentistry in Scarborough today to schedule your free dentist implants consultation today. You smile will thank you!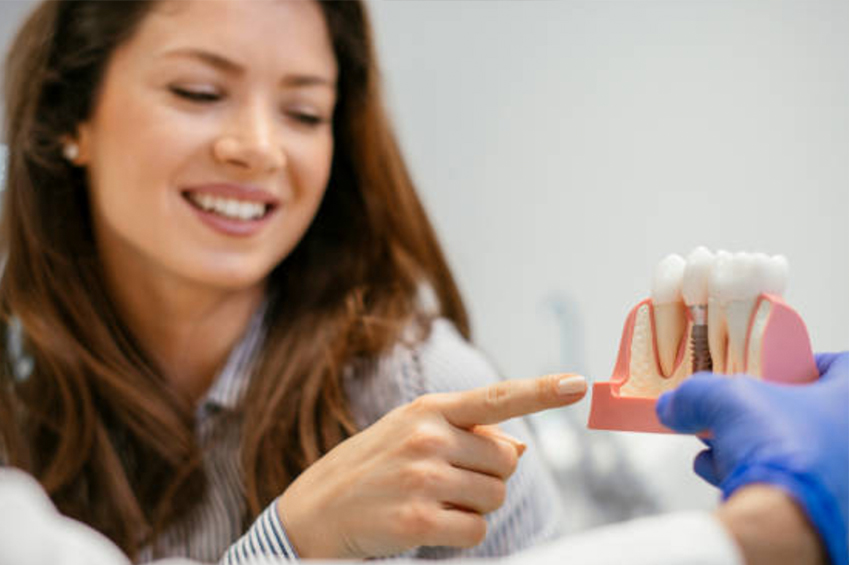 Restore your smile with dental implants.